on
March 21, 2015
at
7:51 pm
If any of this seems familiar, it may be because it's expanded from a reply I wrote in the comments section of an io9 article about Interstellar. The original article is HERE — my comment is… buried somewhere underneath.
---
As a heads up, this post deals in minor spoilers for Watchmen and MAJOR spoilers for Interstellar. I basically give the whole plot and ending away, though not the minutiae of it. So…
BIG FAT SPOILER ALERT!
You've been warned.
---
Ever since Interstellar debuted, it's had its share of critics, most of whom took issue with the movie's ending and the perceived plot holes, paradoxes, and "schmaltzy bullshit" contained therein.
This article addresses one oft-repeated criticism which takes aim at the movie's "time travel" elements and the supposed paradox created by the ending.
My goal is to explain, in the clearest way possible, why there is no paradox — and, in fact, no time travel — in Interstellar.
My teaching aid: none other than The Most Celebrated Graphic Novel of All Time™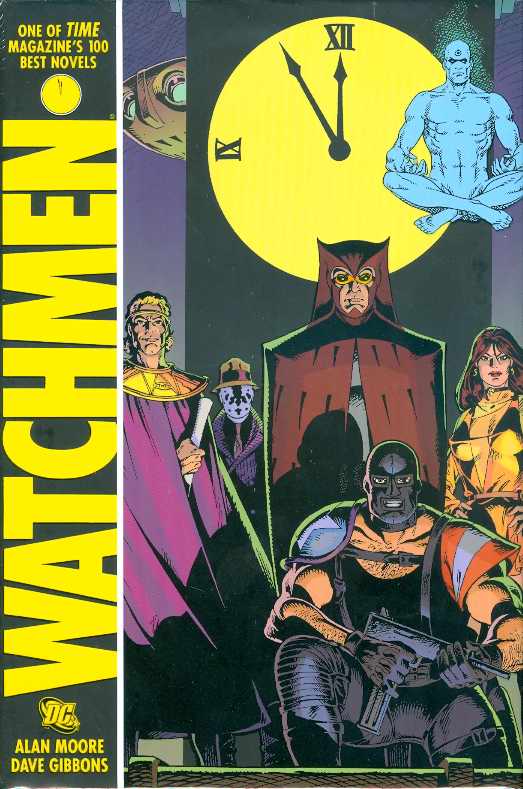 Watchmen
In order to really grasp what's happening in Interstellar, you need some small, basic understanding of what "dimensions" are. I'm going to try to explain this, as I understand it, in the most simplistic way possible — sciencey people, feel free to correct and/or deride me.
Dimensions are spacial and temporal measurements that allow us to perceive our universe.
1 Dimension is a straight line. Only its length is measurable.
2 Dimensions is a square. It has both length and width.
3 Dimensions is a cube. It has height, width, AND depth. 3D makes the world (and Avatar) pop out at us.
4 Dimensions is time. Height, width, and depth in a constant state of change.
As 4-dimensional beings, we perceive 3D objects moving and changing through space (here to there) and time (now to then).
It is theorized that beings of higher dimensions are able to perceive all new values of measurement; specifically that time, to them, may be a construct they can perceive objectively from the outside, rather than subjectively, from within.
(I told you this would be simplistic.)
Now, how does this all relate to Watchmen?
This guy: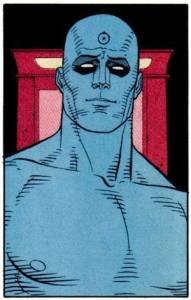 (After the cut, we get Manhattany…)