Save the Bizarre New World Kickstarter!
on
May 18, 2015
at
8:40 pm
"Reading the first few issues of Bizarre New World made me feel like a boy again, reading my favorite comics and thinking, 'so this is what it's like to really fly!' A fun comic with a fascinating story, I thoroughly enjoyed it."

-Terry Moore, creator of
Strangers in Paradise, Echo, and Rachel Rising
I mentioned the  Bizarre New World Kickstarter campaign in a blog post earlier this month, and since then, it has gained 106 pledges and almost a third of its intended goal… but with only 10 days left to make up the last 2/3rds, it's looking a little grim. In light of this, I wanted to take the time to really TELL you about this project and why it deserves your attention.
Bizarre New World is a story that explores what would happen if everyone in the world suddenly learned how to fly. It's not superhero fiction or hard sci-fi or fantasy or any of the usual action-based genres we usually see in comics… but it's also not your typical slice-of-life tale. The most accurate way I can describe it is "imaginative fiction." It asks the question "What if…?" and then spends 278 pages answering that question. And THEN it opens itself up to the visions of 50 other creators and lets them spend another 225 pages riffing on those ideas.
The original Bizarre New World mini-series and OGN sequel were some of my absolute favorite comics that I read back in 2008. That appreciation led to me becoming friends with the creator, Skipper Martin, and that led to me becoming one of those 50 creators to contribute to the BNW anthology.
So, yes, I am a contributor to this project — but I started out as a fan. And I've continued to be a fan as Skipper let me read each subsequent script as he finished writing them and sent me previews of the art pages. I watched the core BNW story morph and expand and divide into multiple story arcs with unanticipated twists, while still keeping that core devotion to the "What if?"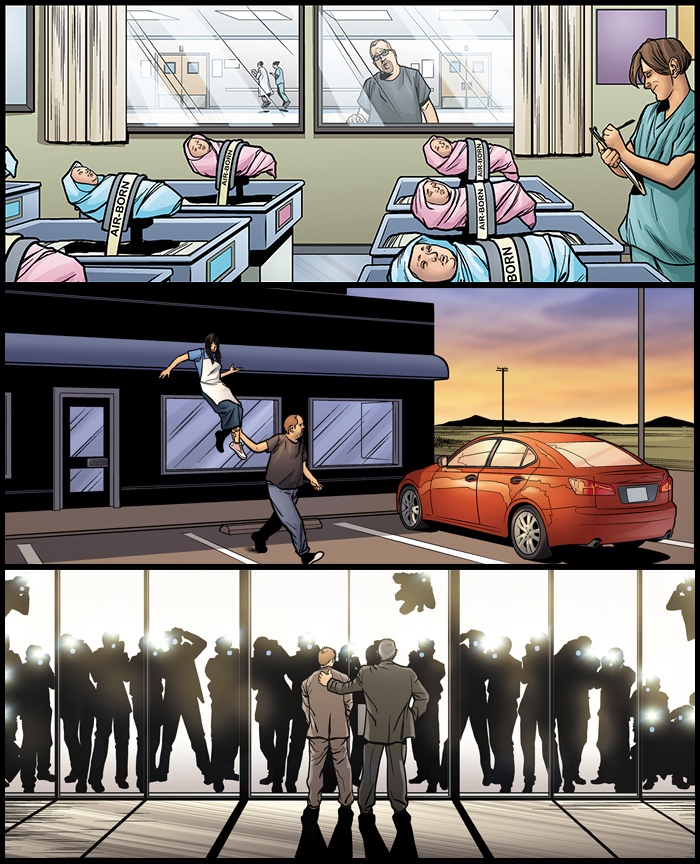 This is such a special project, you guys. It's such a joy for someone, like myself, who spent years of his life just imagining a world like this one, to see Skipper bring that world to life and open it wide for us. He answers the "What if?" while still allowing for that sense of wonder, of the unknown, to remain intact.
It's true that a failed first attempt on Kickstarter doesn't necessarily mean The End for a worthy project. Many have gone on to have successful second campaigns, or found success via other avenues (publishers reading this post — TAKE NOTE!).
But the fact is, Skipper has invested nine years of his life and thousands — literally THOUSANDS — he paid EVERY artist — of his own dollars into creating something wonderful. He deserves a win here. If you can look at everything this book has to offer and still not find something in it that speaks to you, then, no harm, no foul. You can't please everyone.
But it would be a crime for this book to go unfunded based on a lack of visibility.
So, please, even if it's not your cuppa tea, help make it visible to people who might like a sip.